09/02/2022 by Stillorgan Gas, Plumbing & Electrical 0 Comments
Best Gas Boiler in 2023 (January 2023)
In recent decades, boiler manufacturers have made significant progress in developing more ecologically friendly models. Since April 2015, every new gas boiler installation in Ireland has been required to be a more environmentally friendly and efficient condensing boiler, signalling a significant shift in the sector.
What are the different types of gas boilers?
There are a number of elements to consider when choosing the ideal type of boiler for your home, including the size of your property, the number of bathrooms, the water pressure in your area, and the year the house was built. It's important to understand the many types of boilers.
Here are some of the most common types of gas boilers in use in Ireland today.
Heat only boiler
System Boiler
Combi Boiler
 
Which gas boilers is the best? 
There are many brilliant boiler brands in the market like Ideal Gas Boiler, Worcester Bosch boilers, Baxi boiler, Vokera Gas Boilers etc. In our opinion, Ideal Heating Boilers are the smart choice for all domestic gas boiler installations. While we agree that Bosch and Viessmann boilers are incredibly brilliant boilers, we feel that the Ideal Logic range of boilers, in our opinion, comes out on top. Different variations of Ideal central heating boiler systems are reliable and offer excellent value for any home, regardless of size. They reliably heat various types of homes, from the tiniest home to those with many bathrooms, with combi and system boilers. At Stillorgan Gas, Plumbing & Electrical, we recommend the Ideal Logic series to our customers during gas boiler replacement.
DID YOU KNOW: Stillorgan Gas, Plumbing and Electrical are the largest official Ideal registered installer in Dublin.
Why Ideal Heating  Gas Boilers are the best?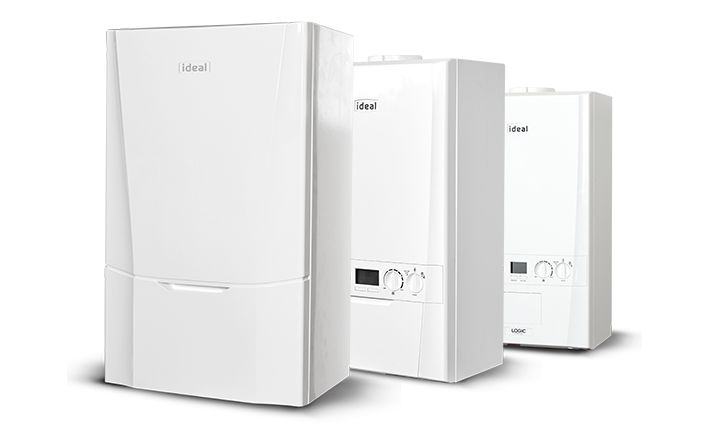 Let us explain why, as we said earlier Worcester Bosch boilers and Viessmann boilers are fabulous; yes, they are German made which endorses quality immediately, and it is our opinion as a compliment to them that they are slightly over-engineered. A little pricey on parts and on the warranty front, a callout for either manufactured in our opinion, can be a little bit slow
So why choose an Ideal boiler? 
The Ideal boilers come in 15KW, 18KW, 24KW, 30KW and 32KW with 7, 10 and 12 years warranty depending on which boiler you choose. Parts are readily available in almost all plumbing stores, the Ideal Logic is the only boiler without exception which is built specifically for the Irish market. A lot of properties in Dublin have half-inch gas lines which are perfectly suited for the ideal boilers, on the other hand, if you choose boilers of any other brand, you may have to upgrade your gas line to a three-quarter-inch, or you may find that your warranty is void.
Types of Ideal Boilers
1. Ideal Heat only boilers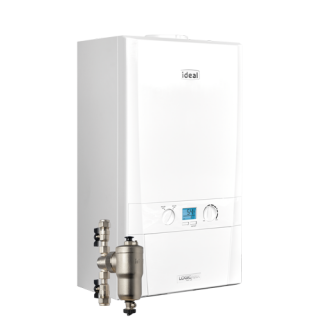 Regular or heat-only boilers provide a steady stream of hot water to several faucets and are best suited to large homes or businesses. Because cold water is stored in a tank and then fed to a hot water cylinder, you'll need plenty of storage space. The availability of hot water is not quick.
What is a heat-only boiler?

Heat-only boilers are also known as standard or conventional boilers. As the names suggest, this is the oldest and most traditional type of boiler - if you have an old heating system, it is most likely supported by a conventional boiler.

A boiler is only one of several components in a heat-only system. This type of appliance, like system boilers, is dependent on a separate hot water storage tank. A cold water cistern, as well as a feed and expansion tank, are also required for conventional boilers.


How does a heat-only boiler work

Heat-only boilers work by heating water and distributing it throughout a home via a control system that includes motorized valves, pumps, and tanks. A cold water tank in the loft will collect mains water and feed it into a hot water cylinder.
The boiler then heats the hot water cylinder, from which hot water is supplied to faucets and showerheads as needed. When the heating is turned on, a pump will circulate heated water to radiators.

Homes with a heat-only boiler will also have a feed and expansion tank to keep the water level in the heating system consistent.
Benefits:
Supplies more than one customer – ideal for residences with multiple occupants
Backup system – users can additionally source water from an immersion heater so if the boiler breaks down, the property nevertheless has got right of entry to warm water
Versatile – can be hooked up to a historical heating system so is perfect for old buildings
Environmentally friendly – use much less electricity than traditional boilers and are compatible with renewable energy structures
Warranty of Ideal Logic Heat Only boilers
| Boiler | Size KW | Warranty (years) |
| --- | --- | --- |
| Logic Heat+ | 15 | 7 |
| Logic Heat+ | 18 | 7 |
| Logic Heat+ | 24 | 7 |
| Logic Heat+ | 30 | 7 |



TO GET A FREE QUOTE FOR A NEW IDEAL LOGIC BOILER
2. Ideal Logic System Boiler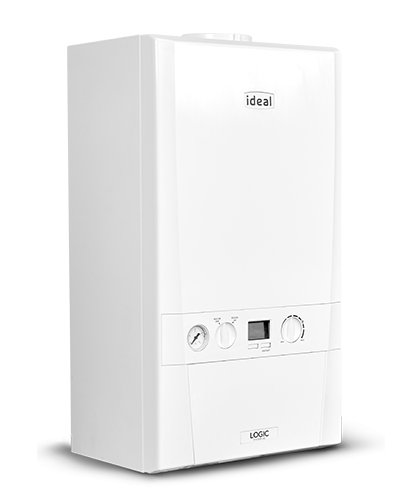 System boilers are Ideal for large households with two or more bathrooms. They heat the radiators directly, but warm water is sourced from a tank that is saved in a secondary region such as the loft or garage.
What is a system boiler?

A system boiler is a type of boiler that is commonly found in larger homes with higher heating and hot water demands. System boilers, unlike combi boilers, can provide a constant supply of hot water throughout the home because they have a separate cylinder for storing water.
How does a system boiler work
System boilers differ from combi boilers in that they are not connected to the cold mains. A coil in the cylinder transports hot central heating water through the cylinder, heating its contents and allowing the heated water to be transferred to multiple taps and showers at the same time. They can typically heat both the radiators in the home and the cylinder at the same time, ensuring no loss of comfort.
 Benefits 
Instant access to hot water – able to supply water to multiple faucets without dropping hot water or pressure
Energy environment-friendly – Ideal gas boilers are rated A and can help reduce utility bills
Saves area – More compact than regular boilers so much less room is taken in the hotpress cupboard
Economically friendly – Use much less electricity and are well suited with solar-powered heaters
Warranty of Ideal logic System boilers
| Boiler | Size KW | Warranty (years) |
| --- | --- | --- |
| Logic System+ | 15 | 7 |
| Logic System+ | 18 | 7 |
| Logic System+ | 24 | 7 |
| Logic System+ | 30 | 7 |
| Logic Max System | 15 | 10 |
| Logic Max System | 18 | 10 |
| Logic Max System | 24 | 10 |
| Logic Max System | 30 | 10 |
DID YOU KNOW: Stillorgan Gas, Plumbing and Electrical can install a New Gas Boiler in Dublin tomorrow itself 
3. Ideal Logic Combi-Boilers
Combination boilers are the most popular preference among Dublin homeowners that have limited storage space as combi boilers are designed as a single unit, they do not require an additional tank to keep water.
What is a combi boiler?
A combi boiler (also known as a "combination boiler") combines your central heating boiler and water heater into a single, compact unit. One of their significant advantages is that they heat water directly from the mains rather than heating a tank of water.

Combi boilers, like all modern boilers, are condensing boilers. These use waste gases produced by the heating process to generate additional heat. This is far more efficient than older boilers, which simply let escaped energy vanish into the ether, resulting in more CO2 in the air and less money in your pocket.

Combi boilers are wall-mounted, compact units that take up very little space. The combi boiler is ideal for a smaller home or apartment because it does not require a water tank or hot water cylinder.


How does a combi boiler work

The inner workings of a combi boiler are quite complex, but this seemingly simple unit houses a very efficient and powerful system. When you turn on a faucet or turn on the heat, your boiler kicks into action to begin the process of heating your water.

Whatever fuel the combi uses, once ignited (by either turning on a heating control or turning on the hot water tap), it will produce flames inside the boiler, which will generate heat.
Benefits 
Ease of use – combi-boilers give you more control over the amount of electricity you use
High energy-efficiency – Ideal combi boilers are rated A and help to minimize heating bills
Cost fine – condensing boilers are competitively priced and offer desirable value for money
Instant hot water – combi-boilers heat water on demand in a matter of seconds
Affordable to purchase and keep – superior engineering and easy planning make combi boilers convenient to install
Warranty of Ideal Logic System boilers
| Boiler | Size KW | Warranty (years) |
| --- | --- | --- |
| Logic+ Combi | 24 | 7 |
| Logic+ Combi | 30 | 7 |
| Logic+ Combi | 35 | 7 |
| Logic Max Combi | 24 | 10 |
| Logic Max Combi | 35 | 10 |
| Vogue Max Combi | 26 | 10 or 12 |
| Vogue Max Combi | 32 | 10 or 12 |
| Vogue Max Combi | 40 | 10 or 12 |
For more detailed information about Ideal Boilers and their specification, Click here.
Why Choose Us to Install Ideal Logic Boilers?
If you want a New Ideal Logic boiler installed, we are a large company with 21 staff, we can turn around jobs quickly, leaving your downtime without heat to a minimum. We are the largest official Ideal registered installer in Dublin. We hold a huge number of parts and our prices are seldom beaten



BOOK A IDEAL GAS BOILER SERVICE
What size boiler do I need?
| No. of bedroom | No. of Bathroom | Number of radiators | Recommended Size of the boiler |
| --- | --- | --- | --- |
| 1 | 1 | 0-5 | 12kW-18kW |
| 2 | 2 | 5-10 | 15kW-18kW |
| 3 | 3 | 10-15 | 24kW-30kW |
| 3 | 3 | 15-20 | 30kW-34kW |
| 4+ | 4+ | 20+ | 12kW-18kW |
South Dublin's Biggest Heating, Plumbing & Electrical Company
Feed